Our purpose
We power life today and for future generations. That means we do more than provide electric and natural gas service. It means we're listening so we can continue to better serve, better support, and better build the future, together. Day in and day out, we're working to improve lives, build businesses and create prosperity across our diverse communities.
Who we are
Entergy, a Fortune 500 company headquartered in New Orleans, powers life for 3 million customers across Arkansas, Louisiana, Mississippi and Texas. Entergy is creating a cleaner, more resilient energy future for everyone with our diverse power generation portfolio, including increasingly carbon-free energy sources. With roots in the Gulf South region for more than a century, Entergy is a recognized leader in corporate citizenship, delivering more than $100 million in economic benefits to local communities through philanthropy and advocacy efforts annually over the last several years. Our approximately 12,000 employees are dedicated to powering life today and for future generations.
What we do
We exist to grow a world-class energy business that creates sustainable value for our four key stakeholders — our customers, employees, communities and owners. This has been our mission for many years. We understood early on that in order to create real, sustainable value, the decisions we make and the strategies we pursue must benefit all stakeholders.
Quick facts about Entergy
100+
years of service
3 million
electric customers
206,000
natural gas customers
Fortune 500
company
12,000
employees
24,000 megawatts
of power generation capacity
121,600 circuit miles
distribution and transmission lines
ETR
traded on NYSE
$115 million
in value delivered to our communities each year
21 years
Dow Jones Sustainability Index for North America
---
Our business
Utility operations
We are growing our utility business by providing customers with clean, reliable energy at a reasonable cost, superior service, a commitment to safety, operational excellence and an engaged workforce.
Our electric utilities generate, transmit, distribute and sell electric power in a four-state service area that includes portions of Arkansas, Mississippi, Texas and Louisiana, including the city of New Orleans. We also operate natural gas distribution businesses in New Orleans and Baton Rouge, Louisiana.
Entergy owns or operates approximately 24,000 megawatts of generating capacity and owns approximately 16,100 circuit miles of interconnected high-voltage transmission lines.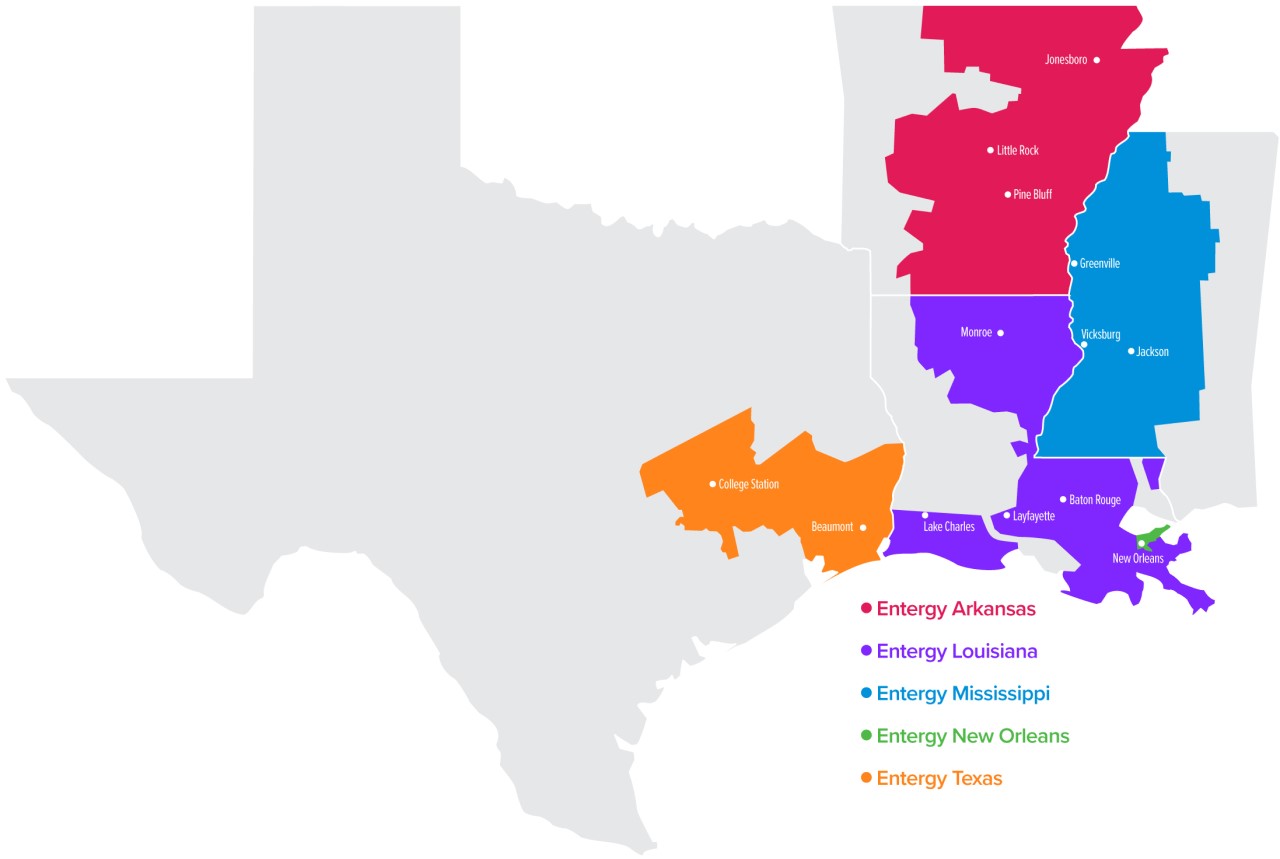 Nuclear operations
We own and operate a fleet of nuclear reactors in four locations in the United States. Our fleet generates approximately 5,000 megawatts of clean, carbon-free nuclear power, which is critical in meeting our climate commitments to achieve net-zero emissions by 2050. Our nuclear fleet headquarters is located in Jackson, Mississippi.
---
The impact we make
We are committed to strong shared values and supporting the communities where we live and work, all while celebrating the differences that make each one of us unique. We're working to help build a better future for everyone, everywhere we live and work.
More about us
---
Our websites
| | | | |
| --- | --- | --- | --- |
| Corporate | Arkansas | Louisiana | Mississippi |
| | | |
| --- | --- | --- |
| New Orleans | Texas | Nuclear |
---