Our values
At Entergy, we are committed to a system of shared values that guide interactions with our customers, employees, communities and owners. These values are:
These values shape our high standards of conducting business in a fair and honest way. Our integrity is one of the most valuable elements of our corporate culture and what we base our decisions on every day. Our commitment to integrity, to community service, to ethics beyond compliance, and to doing the right thing, even when it is hard or uncomfortable, will never change. At Entergy, we aim to continuously build and maintain a culture of integrity. This is more than a culture of compliance, where the focus is centered on following laws and policies that govern our operations. It's a culture of integrity, where our employees are trusted to take the right actions even where there are no policies.
Statement on human rights
Entergy respects the human rights of all individuals. We are committed to the advancement and protection of human rights in all our operations and we have summarized our philosophy on human rights in our Human Rights Statement.
The document reflects the values Entergy strives to operate by as a business leader, employer and corporate citizen. It is consistent with the general principles for business enterprises set forth in the United Nations' Guiding Principles on Business and Human Rights to comply with all applicable laws and respect human rights.
Code of Entegrity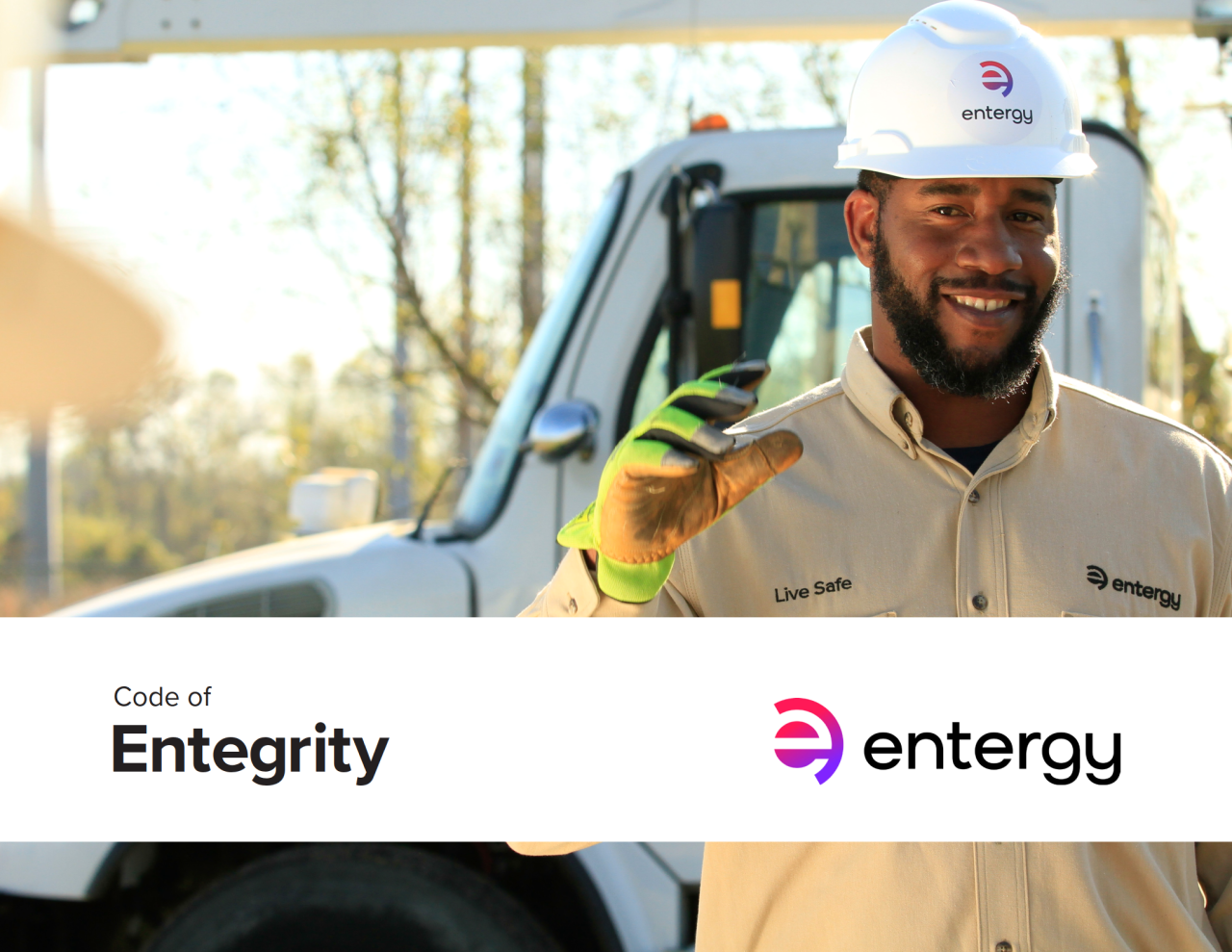 The mission of the ethics and compliance program is to:
Promote and foster and organizational culture of integrity, ethical decision-making and commitment to Entergy's values.
Assure that directors, officers and employees conduct business with the highest standards of integrity and in compliance with all applicable laws, regulations and Entergy system policies.
Provide employees a haven for reporting concerns.
Entergy's ethics and compliance program maintains the Code of Entegrity. The code is our guide to conducting business ethically and fairly. It outlines key company policies and provides the ethical standards of behavior expected of all employees. We expect every Entergy employee to know and follow the code.
The code and underlying policies are not the only parts of the ethics and compliance program. We have codes of business conduct for temporary workers and suppliers. We provide education for our employees on various ethics and compliance topics. We also identify applicable laws and risks of non-compliance and then decrease those risks through preventive and detective measures and corrective action.
Importantly, Entergy provides a toll-free ethics line, 1-888-257-ETHIC (1-888-257-3844) that allows anyone to report violations of the Code of Entegrity, company policies or any laws and regulations.
You may remain anonymous when reporting your concern. Entergy maintains a policy that any report made in good faith based on a reasonable belief of a known, suspected or potential violation of the law or company policy is protected from retaliation for making the report.
Entergy did not experience any material breaches of the Code of Entegrity, including anti-corruption and bribery policies, during 2021.
For questions regarding Entergy's shared values, the Ethics Line or the Code of Entegrity, please contact Entergy's Ethics and Compliance Department.